During these cold winter months many gardeners pass the time dreaming about what they will create in the spring. One terrific idea is a raised bed placed in the perfect spot in your yard, just waiting to be planted. It's not just fun to imagine planting your favorite flowers or vegetables this time of year, it's the best time to start planning your projects.
Use these cold wintery hours to peruse gardening books and scour the internet for the perfect plants. The options are endless. You can design gardens full of beautiful blooms that turn heads and perfume summer breezes. Or you can choose plants that will create a wondrous cutting garden that will provide vases of beautiful blooms to adorn your home and give as gifts. Delicious fresh vegetables are, of course, another great choice. Imagine serving your family fresh green beans, tomatoes, and cucumbers. There are so many choices that the hardest part will be deciding what to plant.
Scout a Location
Once you know what you are going to plant, you can survey your yard and find the perfect place or places for your raised gardening bed. Most vegetables and many flowers need a sunny location. If you have shaded areas that need to be dressed up, try a raised bed full of shade loving plants that will bring the spot to life. Vegetable gardens may need to be fenced so that rabbits and other critters do not raid the goodies. You may want to place these beds in a location suitable for fencing.
Once you have found the perfect spot you need to decide how many beds you want to plant. Keep in mind that the beds should be spread out so that they can be easily maintained and spaced so that the lawn between the beds can be mowed and trimmed.
Materials
It is best to used treated lumber often referred to as landscaping timbers to build the beds because it will last longer than regular lumber.  Another idea is to use metal door frames and I have even seen old bed frames used – which always makes me laugh.
Additionally, you will need:
Angle brackets
Saw with wood and steel blades
Screws appropriate to your chosen material
Steel reinforcing bar, or rebar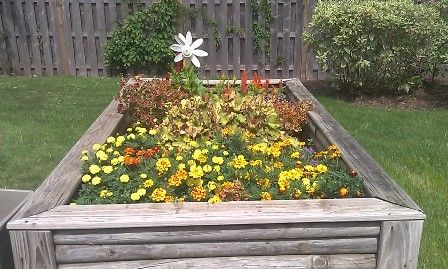 Build the Raised Gardening Bed 
Now it is time to build the frame of the bed and make sure that it is deep enough and sturdy. It is recommended that the boards be stacked at least two high so there is room for adequate soil and lots of room for the roots to grow.
Once the boards have been measured, place them in the appropriate location. Connect the timbers at the corners with angle brackets. Use wood screws and tightly attached the boards.
To keep the lengths of timbers from moving, use steel reinforcing bar commonly referred to as rebar to secure them. Drill a whole through the timbers just slightly larger than the piece of rebar you are using. Measure the rebar and make sure that it at least 8" longer than the length of the boards so that it will be buried sufficiently into the ground to keep the boards from moving. Then pound the rebar through the timbers and into the ground until it is flush with the top of the boards. The length of your garden will determine how much rebar you will need. It is recommended that the rebar be placed every four feet.
Get Dirty
The most important part of making the healthy and productive raised gardening bed is to properly build up the soil. Top soil should be the primary ingredient. Avoid the temptation to buy garden soil as a shortcut, top soil will be provide a richer environment for your plants. Also, work in some peat moss so that the garden will drain properly and the plants will not get root rot. Peat moss must be added sparingly so it does not deplete the nutrients in the soil. To further enrich the soil add some manure to provide extra food for your plants.
Additionally, once you have decided what you are going to plant research what special needs they may have and add that to the appropriate beds. It will also be important during the life of these beds to continue to add soil, peat moss, and manure to the beds to keep them enriched for each planting.
With planning complete, you don't even need to wait for planting time. You can get to work on your bed before it is time to plant. Once the bed is ready you can add more soil if the dirt settles and you can turn it several time to make sure that it is mixed thoroughly. Once the danger of frost is over you can get your plants and put them in their new home. Nurture your plants and set up a lounge chair and enjoy an ice tea while you take in the beauty of what you have accomplished.
Featured images:
Renee Gardine is an avid DIY project aficionado and blogger. She hails from picturesque New Hampshire, where she lives with her husband and two children. To see more of her helpful tips and projects you can do yourself, visit her at FitzAll Blades.